The Evaluation and Developmental Center is a comprehensive rehabilitation facility with a long history of vocational, psychological, transitional, and driver education services provision. We are a direct service component of Southern Illinois University Carbondale's School of Psychological and Behavioral Sciences. We have maintained a successful relationship with the Illinois Division of Rehabilitation Services for several decades and are jointly funded by Southern Illinois University Carbondale and the state of Illinois Department of Human Services Division of Rehabilitation Services. We also provide services that are available to the public through a fee for service arrangement and have served individuals referred through public high schools, community colleges, universities, hospitals, the Veteran's Administration, and attorneys.
JOB SEEKING SKILLS TRAINING (JSST):
This program is designed to teach and train skills and strategies to be able to transition into the world of work after completion of the program. Clients will be able to understand workplace etiquette and employer expectations. We desire our clients to be able to live richer and meaningful lives by creating opportunities and supporting clients to achieve their goals by changes in thoughts, feelings, and actions. This program offers group sessions, case management services, follow-along services, simulated work tasks and volunteering in the community.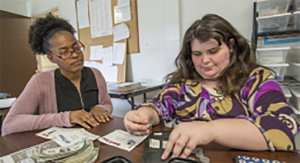 ---
COMMUNITY EMPLOYMENT (CE) SERVICES:
The Evaluation and Developmental Center Community Employment Services program works with and advocates for a client seeking competitive employment. The primary goal is to place clients into compatible, competitive employment. This goal is achieved by matching the vocational interests, work traits, and abilities of the client with available jobs in the community.  Individuals in this program receive assistance with job seeking skills, completing and submitting applications, interviewing skills, job development, contacts with potential employers, and limited job site support.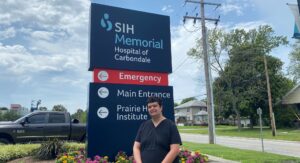 ---
TRANSITIONAL INDEPENDENT LIVING CENTER PROGRAM:
The goal of the Living Center is to provide our residents with a safe, friendly and stimulating environment to live and learn new skills, all while being able to form friendships, socialize and work toward personal independence. The Living Center at EDC is organized to meet the resident's medical, physical, social, emotional, and cognitive needs and abilities. Services offered include meal preparation and planning tasks, development of smart budgeting and spending skills, daily living skills and training, individual goal setting, community referrals, personal case management services, progress updates, and individualized support counseling with our 24 hour-a-day staff. Residents of the EDC Living Center participate in community activities and recreational activities planned throughout each semester through a collaborative team of professionals.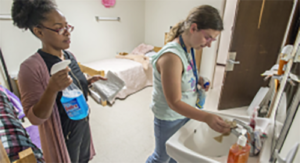 ---
DRIVER REHABILITATION:
A certified Driver Rehabilitator Specialist provides a wide range of services to individuals with disabilities. Those served include Illinois Division of Rehabilitation Services customers, high school students, and individuals recovering from medical problems.
Four components are available for individuals pursuing Driver Rehabilitation Services.  They include Driver Evaluation, Driver Rehabilitation/ Training, Vehicle Adaptive Equipment Prescription and Consultation Services.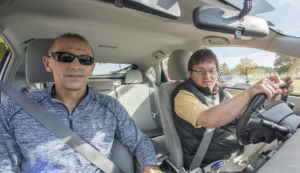 VOCATIONAL EVALUATION (CVE) SERVICES:
This program assesses work strengths, abilities, preferences, and limitations through a comprehensive evaluation process which includes a vocational interview, vocational testing, work samples, and behavioral observations. The evaluation will include an assessment of cognitive functioning, academic achievement, vocational aptitudes, interest and work values, and work personality.  We also provide transferable skills analysis, accommodation and adaptive technology recommendations, insight and brief vocational counseling, and individualized career exploration.
Additional services are also available in the Vocational Evaluation Program if needed. Psychological evaluation is available upon referral and is provided to assess an individual's intelligence through the use of the WAIS-IV and includes diagnostic determinations of learning and other mental disorders to assist with educational and vocational planning.  Diagnosis is provided in accordance to the DSM-5. Specific recommendations for accommodations as well as recommendations for any needed ancillary services are included in the psychological assessment.  A functional capacity evaluation (FCE) is also available upon referral. The FCE is completed by a Matheson trained evaluator using the Matheson Functional Capacity Evaluation system. The FCE can usually be completed in one day and the resultant report can provide valuable information about the client's physical functional capacities.